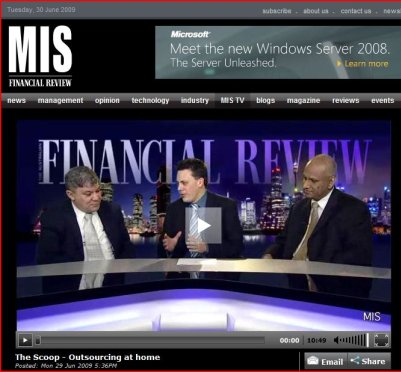 The Satyam scandal and the global financial crisis have redrawn the outsourcing landscape. Is it time for CIOs to adopt an onshore strategy? The Scoop's Mark Jones is joined by Peter Kazacos, CEO of PK Business Advantage and Sri Annaswamy, director of Swamy & Associates.
Watch the video on http://tv.misaustralia.com/video/7281
Our advisory service is NOT a "soft sales" generalist consulting arm for an eventual service delivery contract based around any of the key activity domains – call centres or IT outsourcing or finance & accounting outsourcing delivery.
We have clearly demonstrated this in investing significant time and effort in creating and presenting "scene setting" research documents in collaboration with other prominent advisors (eg. Invest Australia, Credit Suisse First Boston, Citigroup and KPMG). For example, we are currently, perhaps the only offshoring advisor in Australia emphasizing the importance of KPO as a critical domain for consideration by producing two major referenceable reports on "Financial Services KPO" for Axiss/Invest Australia as well as being co-researchers and key contributors to the pioneering KPMG global report on Financial Services Knowledge-Process Outsourcing entitled "Knowledge Process Outsourcing – unlocking top line growth by outsourcing the core"
Proven expertise in negotiating with and incentivising the specialist BPO and KPO service provider market.

Strong "hands on" experience of Six Sigma and quality metrics driven KPO and BPO arrangements

Risk, Change and Compliance Management advisory pertaining to Outsourcing such as regulatory requirements for ASIC, APRA, Basel II and Sarbanes Oxley Act.
Swamy and Associates
Independent BPSO Advisors and Managers
Level 8, 65 York Street
Sydney - NSW 2000
Mobile: +61 (0) 414 629 981
Ph (landline): +61 (2) 8215 1504
Fax: +61 (2) 8215 1611